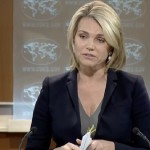 Friday, October 6th, 2017 01:09 pm
121 Reads
Washington: The US  condemned the terror attack on a Shia shrine in  Balochistan that killed 20 people while on Thursday evening.
"We offer our deepest condolences to the victims and their families, and wish a speedy recovery to those injured," State Department spokesperson Heather Nauert said.
She said the US continues to work with Pakistan and its partners across the region to combat terrorism.
"We stand with the people of Pakistan and the broader South Asia region in their fight against terrorism," she said.
A suicide bomber yesterday blew himself up at the Dargah Fatehpur …