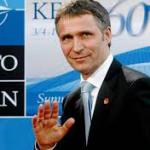 Thursday, November 6th, 2014 11:04 am
KABUL, Nov 06 (NNI): As the NATO-led International Security Assistance Force (ISAF) mission is concluding at the end of this year, the NATO Secretary General Jens Stoltenberg is visiting Afghanistan to reaffirm the alliance's continued engagement.
Stoltenberg will take stock of the progress made during the 13 year ISAF mission and launch of the new Resolute Support mission on January 1.
A statement released by NATO said the Secretary General witnessed the growing capability of the Afghan commando units at the Afghan National Army Special Operations Command at Camp Morehead in Kabul.
Mr. …