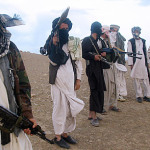 Thursday, November 6th, 2014 02:16 pm
ZURMAT, Nov 06 (NNI): Taliban insurgents killed 10 civilians on Wednesday night in Paktia province, local officials said Thursday.
Provincial Police Chief Zalmai Oriakhail, while confirming the incident, said that the people were killed in Zurmat district of the province.
Oriakhail not providing more details, said that the police have started investigations.
The provincial spokesman Rohullah Samon said the bodies were found Thursday morning.
"The incident took place on Wednesday night in Mamozai area of Zurmat district," Samon said. "The dead bodies were found Thursday morning."
According to Samon, five of the men killed were …