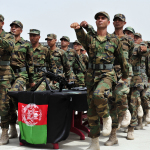 Thursday, November 6th, 2014 02:26 pm
32 Reads
KABUL, Nov 06 (NNI): The U.S. military in its latest drone strike against terrorist groups killed Abdullah Haqqani, a top commander of the riotous Haqqani network, in Pakistan's lawless south Waziristan area, along the border with Afghanistan in late October.
The junior but commanding figure within Taliban militants, Abdullah Haqqani, had been reportedly killed along with six other insurgents in an aerial strike last Thursday.
Afghan political analysts are of the view that the elimination of Abdullah Haqqani could be a major setback to the Taliban militants, especially the lawless Haqqani network.
"The …