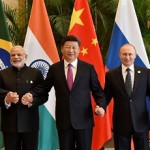 Tuesday, September 5th, 2017 12:23 am
70 Reads
CHINA: The organization of world's five major emerging economies – BRICS, for the first time in its declaration, mentioned the Pakistan based extremist groups Lashkar-e-Taiba and Jash-e-Mohammad and Haqqani Network.
Members nations of the BRICS include Brazil, Russia, India, China and South Africa – which forms BRICS.
The organisation in their ninth annual high level meeting on Monday in China in their strongly worded statement said that those who are involved, administer or support terrorism must be brought to justice.
This announcement is being seen as India's diplomatic success. The heads of five countries …