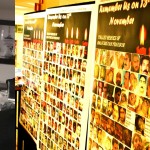 Friday, November 14th, 2014 03:32 am
128 Reads
LONDON, SWEDEN: Baloch Diaspora has organised events to commemorate the Baloch Martyrs Day in different cities of world on Thursday 13 November.
According to details event were organised in Glasgow and London cities of United Kingdom, Vancouver city of Canada, Boras City of Sweden and Pusan area of North Korea.
In Boras, Sweden, the Baloch activists booked a place in Central Library for the entire day where several people visited the Baloch stall to express their solidarity with Baloch people and families of Baloch martyrs.
In Pusan, South Korea, the Baloch activists organised …