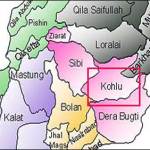 Monday, August 28th, 2017 11:43 am
30 Reads
QUETTA: Pakistani forces have intensified their attacks against Baloch civilians in several areas of Kohlu after the Baloch fighters targeted their check post in the region.
The latest military offensives took place in Sohren kaor, Sur tal, Band Koh, Tobov and other surrounding areas of district Kohlu in Kohistan Marri, Balochistan.
The forces have targeted civilian populations and destroyed houses of innocent people. It is feared that due to indiscriminate air strikes and ground forces offensives several people and their livestock have died.
Meanwhile, the spokesperson of the Baloch Liberation Army, Mr Azad …