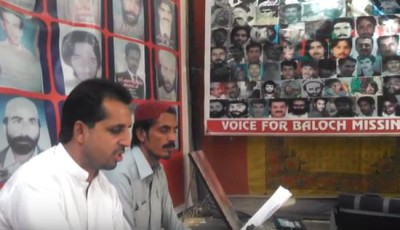 Wednesday, October 19th, 2016 02:50 pm GMT +1
QUETTA: The Voice for Baloch Missing Persons, Organization of relatives of disappeared persons in Balochistan, has said that abducted persons are being killed in fake encounters.
Voice for Baloch Missing Persons Chairman, Nasrullah Baloch, has made these revelations during a press conference in Quetta on Tuesday evening.
The press conference was held to demand the safe release of Ali Asghar Bangulzai who has been abducted by Pakistani forces form Saryab Road Quetta 15 years ago.
Farooq Bangulzai elder son of Ali Asghar Bungalzai said that his father has been forced disappearance on 18 …