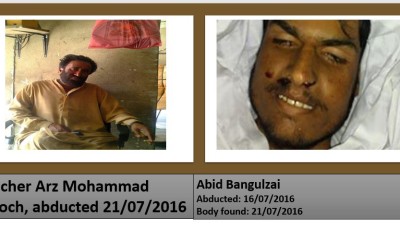 Thursday, July 21st, 2016 10:57 pm GMT +1
QUETTA: The Pakistani forces brought the tortured dead body of a previously abducted Baloch man to civil hospital Quetta on Sunday.
The body has been identified as that of Abid Bangulzai son of Fateh Khan and handed over to his family on Thursday, 21 July.
Sources close to Mr Bangulzai said that he was offloaded from a passenger van near Luckpass Toll Plaza by Pakistani FC and intelligence services on 16 July, 2016 and the next day froces brught dead body to civil hospital Quetta.
Humgaam News, an online Urdu news site, reported …