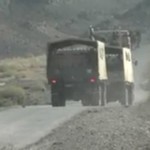 Saturday, February 17th, 2018 12:00 pm GMT +00:00
123 Reads
QUETTA: The arbitrary arrests and enforced disappearances of Baloch activists by Pakistani forces continue unabated with eight more people being arrested and disappeared in past few days from different areas of Balochistan.
On Friday 16 February, Pakistani forces carried out raids in several localities in Tump area of district Kech and harassed women and children during the unwarranted attack.
Two men named Abdul Karim and Rashid have been abducted from Malant Bazar area in Tump.
In another similar incident, Pakistani forces abducted two Baloch near a security forces check post in Talaar area …