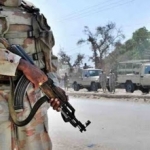 Tuesday, October 14th, 2014 09:14 pm
11 Reads
Tortured and bullet-ridden bodies of two Baloch activists were found in Kashmore district of Sindh and Panjgur regions of Balochistan whereas a well-wisher of Baloch National Movement was target killed in Besima and son of a Baloch martyrs has been abducted near Panjgur, Balochistan.
According to details the bullet-riddled body of a previously abducted Baloch was found in Kashmore district of Sinsh on Sunday.
The victims were identified as Dostain Bugti, who was abducted from Gudu area of Kashmore district in Sindh on 4th October, 2014.
BRP sources reported that Mr …