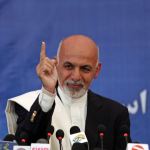 Monday, November 3rd, 2014 02:57 pm
157 Reads
KABUL, Nov 03 (NNI): President Mohammad Ashraf Ghani has ordered an immediate probe into assassination of deputy provincial governor of Kandahar.
The Presidential Palace following a statement said a delegation has been appointed to launch an investigation regarding the assassination of Abdul Qadeem Patyal.
The statement further added the delegation led by Gen. Salim Ehsas, police chief of the ministry of interior, was instructed to present their report regarding the incident as soon as possible.
The attack on Mr. Patyal was carried out late on Sunday evening in Kandahar university while he was …