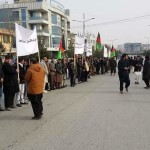 Friday, January 13th, 2017 10:53 pm
BW web monitoring desk KABUL: Scores of protesters gathered outside the Pakistan embassy in Kabul on Friday to demonstrate against Pakistan's alleged support for insurgents.
The demonstrators also raised slogans against Pakistan Army's intelligence arm, Inter-Services Intelligence (ISI), Afghan media reported.
A number of Afghanistan Green Trend (AGT) members held a demonstration outside the Pakistani embassy in Kabul in protest over Islamabad's perceived role in terrorism, according to Tolo News.
The protesters accused the Pakistan embassy of being a "nest of spies in Afghanistan" and said …