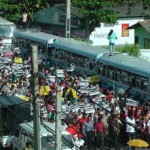 Sunday, January 8th, 2017 12:48 pm
(BW News Web Desk) Several people have been injured in southern Sri Lanka during a protest against allowing China to build a port and industrial zone.
The plan envisages the eviction of thousands of villagers around Hambantota port, 240km (150 miles) south-east of the capital Colombo.
Police used tear gas as the protest delayed a ceremony being attended by Prime Minister Ranil Wickeremesinghe.
Opponents say the area is being turned into what they call a Chinese colony.
The government is finalising a 99-year lease of the port …